06.06.2016
It is a Charity run that will demand enormous amounts of the two, that much is clear: For Marie-Louise (Lilly) Princess of Sayn-Wittgenstein-Berleburg and her son Heinrich Donatus Prince of Schaumburg-Lippe this will be a particular challenge. Conquering more than 160 km through the mountains the two will cross any terrain, up and down, left right and centre. It is not a walk but a run through the Bulgarian Rhodopes, in fact; four marathons in a row. As the brainchild of Interhelp-member Heinrich Donatus this run aims to support a relief project in the Philippines, where the organisation aims at building a unique form of Youth Village, which aims at establishing sustainable living conditions throughout the nation. Since the Typhoon Haiyan hit the Philippines in 2013 death and devastation has plagued the country. Interhelp itself has managed to succeed with multiple small and large scaled projects throughout the region with the help of both the city of Davao and Interhelp member Andreas Engelhardt, who has moved there in support. The Hameln-native Engelhardt has decided to rekindle his drive at trekking throughout Southeast Asia to help children in secluded towns. The aid project has been financed by donations gathered in the towns of Hameln, Bückeburg and Minden.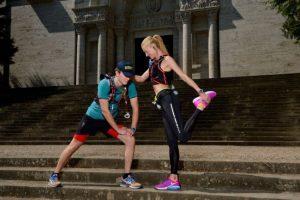 Both Princess Lilly and Prince Donatus have been training for months in dedicated preparation for this unique run, even if the young officer was already "fit as a fiddle." – As the first German in history he passed the commissioning course at the Royal Military Academy Sandhurst, and subsequently became a troop leader in Her Majesty´s Household Cavalry Life guards, the highest ranking regiment in the British Guards division. Having recently left the regiment in the rank of Second Lieutenant the son of Prince Alexander quotes; "I have always set myself ambitious goals – and I intend to succeed in them."  The move towards this new adventure moves him, he says, "I want to do this for a good cause, which is why I am running for Interhelp. My Father has been the Patron of this organisation for many years, and through him I know that every cent reaches those in need, with absolutely no exception."
"To run such a distance is quite a feat. It requires iron discipline and I am sure it was initially more difficult for my mother than for me. I say initially because we both have reached a point at which we are finding new boundaries, and therefore learn more about ourselves." Says the marathon-runner Heinrich Donatus, Princess Lilly agrees: "The cause is what drives me. The rest is dedication, mentality. I just ignore the pain."
Bulgaria is well known by Lilly. Having been in Pazardjik many times with the now-chairman of Interhelp, Ulrich Behmann, to help children in sickness and need she says: "I cannot even remember how many times I have been in the Thracian regions with Ulli. There is so much poverty but the people remain pure at heart, with extraordinary hospitality." Having previously been the Patron of the organisation "children in need" (German; "Kinder in Not"), both her and Behmann had visited children living on junkjards who were searching for food and valuables. "We instantly started our relief-project," says Lilly, and it exists to this day. In a school at Aleko, not too far beyond the stinking and swelling mountain of junk that confronted the two, more than 30 children are receiving homes and warm meals. The Hameln Businessman and Rotarian Thomas König financed the supplies together with the regional Red-Cross association. It allows these Boys and girls to eat without having to dig through rubbish to survive. They can learn, and no longer stand on the outsides of society. "These children have earned a future thanks to the help of all the donators. One day they will have the ability to feed both themselves and their families through their own effort," says Behmann. But it has not always been so; "Those who didn't go to school did not have a future. It caused these young people to turn to criminality and prostitution." Members of the Rotary Club in Pazardjik will join the two prominent characters on their run through the mountains. "We have established a demanding route and will remain at Lilly and Heinrich Donatus´ side in consultation and deed" says Peter Hristo, Past President of the Bulgarian club, which prizes Ulrich Behmann as a member of honour.
Princess Lilly and Prince Heinrich Donatus deeply hope for the support and donations of many people, so that these can help the suffering children. Social networks have initiated the marketing of the project a few days ago. You can find the "Youth Village" page on Facebook and an Indiegogo link allows easy donations via PayPal. Particular donation packages allow people to choose very special perks. Both mother and son can be seen updating their Instagram daily as of the 9th of June, when their run commences, you can follow them via donschaumbu and lillywittgenstein. Those who are interested can follow and support their run live every day on Runtastic by searching for "Donatus Schaumburg." "Please help us help other by donating, every penny counts!" Says Princess Lilly.
Links and accounts:
https://www.facebook.com/youthvillagedavao/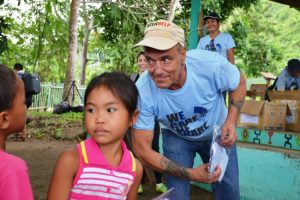 https://www.runtastic.com/de/benutzer/donatus-schaumburg
https://www.instagram.com/lillywittgenstein/
https://www.instagram.com/donschaumbu/